Michael Meszaros was a former Marketing and Sales Executive for Pan American Airlines and SAA, who wanted to develop an airline to operate between the USA and South Africa, once the economic sanctions against South Africa had been lifted.
Pan American had withdrawn from the lucrative route between New York and Johannesburg some ten years prior to this. SAA being forced to withdraw from the route during 1986 when the treaty between the USA and SA was voided by Congress.
With the first black president of South Africa, Meszaros saw a huge potential for a new market of African-Americans wanting to visit Southern Africa and a general growth of the leisure trade between the two countries. Also the business market would grow with the development of South Africa as sanctions fell away.
This would be the first US carrier to serve South Africa in ten years and also the only US flag carrier to start up exclusively as an international carrier since US deregulation in 1978. The lifting of sanctions would also permit a direct service between the countries since the only way to fly between the two was via Europe which was a trip of around 30 hours. USAfrica Airways was to cut this down to fifteen and a half hours with a fuelling stop at Cape Verde.
Meszaros shared his idea with Arthur D Lewis who was the former Assistant Vice President –Planning for American Airlines. The two formed an informal partnership and in 1990 they founded USAfrica Airways Inc. Meszaros becoming Executive Vice President and Lewis becoming Chairman and Chief Executive Officer.
The Board of Directors grew to twelve in total, including Dr Chester Crocker, the assistant Secretary of State for African Affairs 1981-1989. Arthur D Lewis retired in September 1993 and was replaced by Edward R Bolton who sadly passed away after suffering from advanced cancer. (One aircraft, N1758B, was later to carry his name under the cockpit). The son of Arthur D Lewis, Gregory S Lewis, former partner of the law firm Morgan, Lewis and Bockruis replaced him in February 1994.
During August 1991, USAfrica Airways applied for a Section 401 Certificate and this was granted by the US Department of Transport, allowing them to serve Southern Africa. The economic embargo being lifted in July 1991.
This allowed USAfrica Airways to serve South Africa, Zimbabwe, Botswana, Namibia and Angola. A start date of the 1 June 1994 was given as the start-up date for services from Dulles International to Jan Smuts Airport.
A Boston Mutual Fund Group raised an initial $30 million to start the project. USAfrica Airways had spent $9 million getting set up for the first flight. This started on 3 June 1994 with two weekly flights to Johannesburg, departing Washington DC every Friday and Sunday.
This was made possible by leasing two state of the art MD-11's from American Airlines for three years, with the option to lease a third. Aircraft registration N1757A and N1758B. The operating cost of these aircraft at the time was around $7000 per hour. That is about $224 000 operating costs one way between Washington and Johannesburg. A full flight could generate revenue of $955 000 however.
USAfrica Airways planned to break-even within a year. Like most airlines, USAfrica hoped that the MD-11 which began life in 1990 would follow on the huge success of the earlier DC-10 on which it is based. Unfortunately the MD-11 never met it's expectations and suffered numerous computer and electrical glitches.
More importantly the range at full load was 500 miles short of those advertised because the engines didn't have the expected efficiency. Airlines like Alitalia and Swiss Air paid a huge penalty when making this fleet change. American and Delta phased out these new aircraft, sighting the reason as 'economics'. Added to this American Airlines entered into a code-share agreement with SAA.
On 23 June 1994 a third flight to Johannesburg started and on the 2 July 1994 a weekly service to Cape Town from Dulles International (Washington DC) began.
By the end of 1994 USAfrica Airways operated six flights a week. Five to Johannesburg and one to Cape Town. A service was planned to Harare, Zimbabwe in 1995.
Due to the air treaty between SA and USA being voided the air services between the two countries was governed by principle of comity and reciprocity. SAA began flying six times a week to New York and later a seventh flight to Miami. Being code-shared with American Airlines, their passengers enjoyed onward flights on American Airlines Domestic service and also the same with SAA's domestic service.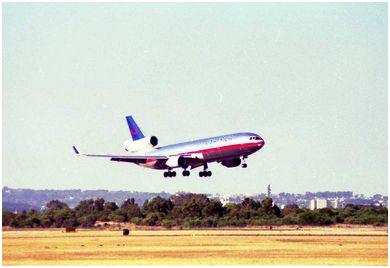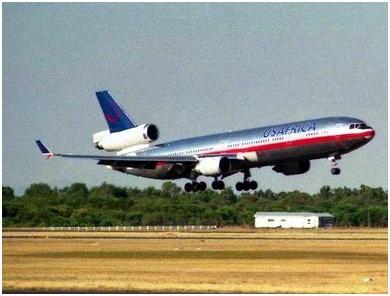 USAfrica Airways concentrated on a superior service. Leather seats with extra leg-room in the configuration of 18 FC, 66 BC and 154 economy class. The extra leg-room was obtained by removing seat's and can be compared with the American Airlines configuration of 19 FC, 49 BC and 203 economy class. Economy class meals were served on crockery and first class meals were served a la carte on board the aircraft. They served the finest South African and Californian wines. The service was generally accepted as being of a high standard by the passengers, although some parts of the service were viewed as "strange".
The Americans had failed to consider that due to American sanctions, the South African palate was more accustomed to the "European" taste. Something the author feels is typical of their short-comings.
With some 400 employees, USAfrica Airways only employed about 80 in South Africa. A large number being security staff, required to meet FAA regulations.
Vast sums of money was spent on "consultants" who quite frankly appeared to me to be clueless and only interested in their ego's. Too many being ex-American Airlines who were clearly "in bed" with SAA.
USAfrica Airways had done thorough research on the USA side of things but were very naïve when it came down to the "African" way of doing things. They appeared to think that Africa would follow their lead.!?
I still have fond memories of one of the Directors, Ed Green being "shocked" at working conditions at Jan Smuts Airport and laying down the law. When I left South Africa in 1998, nothing had changed!?! Despite paying huge sums of money to "consultants", no heed was taken of "shrinkage", something which is a little greater in Africa than that of the USA. They only had sufficient equipment for each base and that on the aircraft. Most items being poorly marked or not marked at all!
In catering for example, a tumbler has an expected life span of seven trips. With no markings, you can halve this!? Unmarked cargo pallets or nets are bound to disappear when you don't have cargo agents who are solely dedicated to your flights. This you do not need consultants for, but these highly paid consultants appear to have overlooked this.
With this "bridging finance" running out, USAfrica Airways was negotiating joining up with United Airlines. Plans included offering common rated flights with Washington DC to New York, Boston, Connecticut, Philadelphia, Miami, Fort Lauderdale, Tampa and Orlando.
That is to say, USAfrica passengers would be afforded onwards flights to these destinations for free. The only draw back was that passengers needed to travel from Dallas International to Washington National Airport in order to travel on this Domestic service.
USAfrica Airways and United Airlines took too long to reach an agreement, and American Airlines forced the suspension of services on 3 February 1995 by taking back there aircraft. USAfrica Airways Inc then filed for chapter 11 bankruptcy protection in an effort to protect what was probably there only asset, the licence for the route.
This barred the US Government from taking the route whilst USAfrica sought new investors. SAA once again had the monopoly on the route.
USAfrica Airways hoped to restart in 1996, after signing a marketing pact with Continental Airlines and Tower Air acquiring 27% stake in the company dependent on USAfrica Airways retaining its route rights. The plan was for Tower Air to wet lease B747 aircraft, flying from Newark International which is the hub for Continental via Dakar (Senegal) to Johannesburg. This idea was killed when a decision filed on 2 February 1996 gave the US Department of Transport permission for World Airways and Southern Air Transport to take over the route.
World Airways was given permission for five round trips between New York and Johannesburg, Southern Air Transport was given two cargo flights via Luanda to Johannesburg.
USAfrica and Tower Air then applied for renewal of the route. Under pressure from World Airways and Southern Air Transport, the application was rejected as they believed this would be an "under the table" transfer of frequencies which had already been tentatively reallocated.
The Americans continued to misread the African Market, both World Airways and Southern Air Transport ventures into the South African market were short lived. SAA continue to hold the monopoly on this route and will continue to do so, for as long as it is Government owned.
Copyright © Paul Dubois