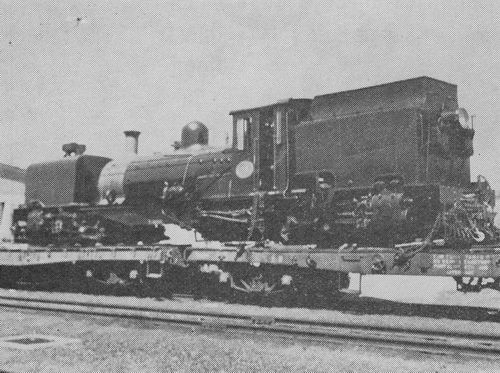 "Puffing-Billy" of the Narrow Gauge recently over hauled in the Workshops at Uitenhage, being conveyed on a main line truck, to Port Elizabeth.
Recent articles on the narrow gauge railway line between P.E. and Humansdorp in the Rhodesia Railway Magazine and S.A. Railways Magazine, were of particular interest to Mr. Clarrie Trollip of the Rhodesia Railways Signal Branch in Bulawayo.
He writes:
"Before the war, as a young station foreman on relief duties, I used this "baby" railway a good deal. In those days it was known locally as `The Pumpkin Railway' and the night journey by No. 620 mixed, hauled by a 'baby' Garratt, was an experience never to be forgotten. The 60-odd miles from Port Elizabeth to Humansdorp was an overnight journey, with the passengers sitting bolt upright throughout the trip as the `coaches' were too narrow to allow for full-length bunks. There was a saying in those days that if one had not ridden on `The Pumpkin Railway' one had still to ride in a train."