A FASCINATING picture of early Apple Express steam travel in the Eastern Cape emerged this week from two postcards usually on display in the Humansdorp Museum.

One card depicts the diminutive steam train's first crossing of the Van Stadens River gorge over the 77,1m-high steel girder bridge - the highest narrow-gauge bridge in the world - in 1909.

The cards were loaned to Weekend Post by Humansdorp's Lynette Marx.

Several interested parties are presently engaged in efforts to preserve the train, which gained its fruity label in the 1960s.

In its heyday, the diminutive train puffed its way almost 283km from Humewood Road to Avontuur at the top of the Langkloof on the 610mm-wide line originally built to transport fruit and other produce from the Gamtoos River Valley to the Port Elizabeth harbour.

Sydney Moir, in his book 24 Inches Apart, indicates the extent of its use.

According to Moir, 1453 first-class return tickets were bought in December 1905 and 2000 third-class tickets were bought. *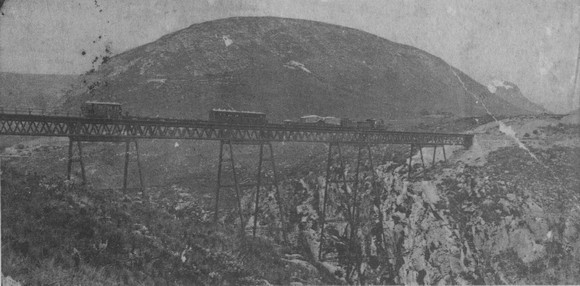 This picture, dating from 1909, was taken when the Apple Express - before it was known by its fruity label - crossed the bridge over the Van Stadens River gorge for the first time.

An early 1900s family poses with train guards and the driver where the Apple Express puffed through young Walmer along the PE-Avontuur railway.