WHAT'S IN A NAME - THORNHILL
Thornhill village, our day trip terminus has quite an interesting history. Here is an extract from the book 'Governor's Travels' written by Bartle Logie.
Christopher Thornhill Camm was working on a sugar estate in Antigua when he heard, in 1802, that he had inherited a property known as Thornhill in Bishops Wearmouth, near Sunderland, County Durham. It was stipulated that to inherit it he would have to change his surname to Thornhill. After having obtained permission for the change of name, he took possession of the property on 29 October 1802.
An investment in a glass factory that went bankrupt forced Christopher Thornhill, as he was now known, to sell the property in 1816. He and his family moved to London. He became interested in the scheme to bring British settlers to the Cape and eventually led a party that was granted land between the Kowie and Rufane rivers at what is today Port Alfred. This piece of land he also named Thornhill.
Christopher Thornhill's son, John Thornhill, developed several business interests in Port Elizabeth after 1835.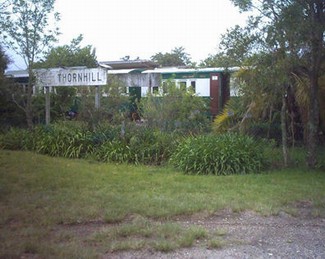 Thornhill Station
He bought property to the west of the Van Stadens and in the family tradition, named it Thornhill. It is believed that the homestead on this farm was situated where the railway cottages stand today.