Roderick Smith - Rail News Victoria Editor
A great deal of interest has been shown in the Garratt exported from South Africa to Ushuaia (southern Argentina) for use on FC Austral Feuguino. This is a tourist line into a national park on the city fringe. It was built on the alignment of a former timber line, worked by prisoners. It gets very busy, carrying groups from cruise ships.

Below is a photo of the first Garratt, coded N2, and named 'Ing L D Porta'.
This was built by Tranex in 1994. This seems to be an Argentinian company. The loco was styled after Tasmanian K1/K2.

It was rebuilt at Ushuaia (the workshops at El Fin del Mundo station) in 2001. The water tanks were enlarged to a new profile.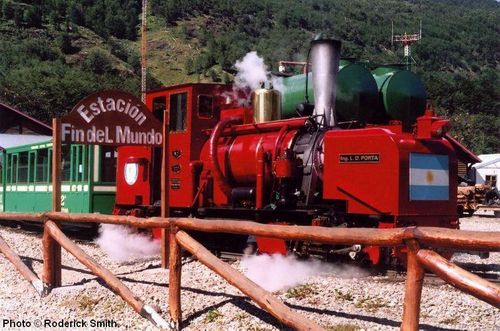 El Fin del Mundo (Ushuaia, Patagonia, Argentina): Garratt N2 'Ing L D Porta'
heads a train conveying tourists from a cruise ship. Mon.10.1.05.
Copyright is alive and well, please click