Accident Awareness
Horrific Accident on the N3
A horrific pile-up has been rated as the biggest 'bump & grind' in the history of the N3, never before have so many trucks (especially) and cars been in one smash. Sadly lives were lost, which is a sobering "wake up" for all.

The accident scene – roughly midway between Cato Ridge and Camperdown and what it subsequently did to the traffic at the Cato interchange.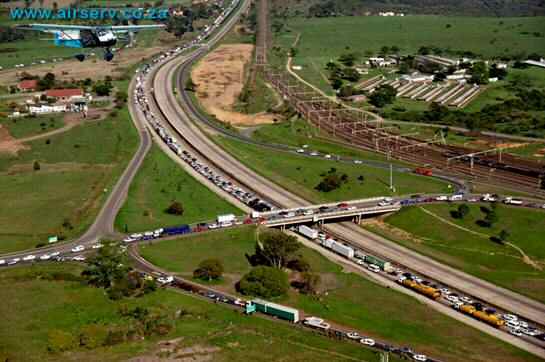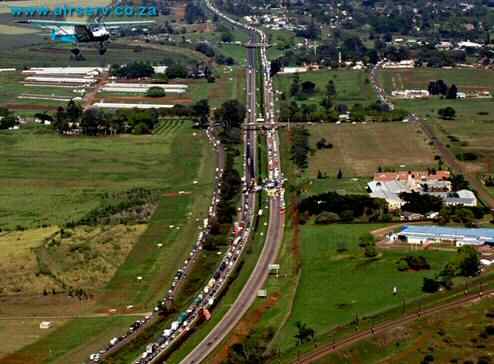 I was dammed nearly a victim of this accident; driving to my aeroplane in Camperdown at 06h00'ish, I slowed to a crawl, due to the suddenly thick mist. A certain aggravating factor here would be that it was 100% clear skies up to Cato Ridge and then without warning the low lying fog sat on the flats between Cato and Camperdown – the motorists are therefore inclined to go into the mist at 'full tilt', unlike if they'd been crawling in misty conditions all morning.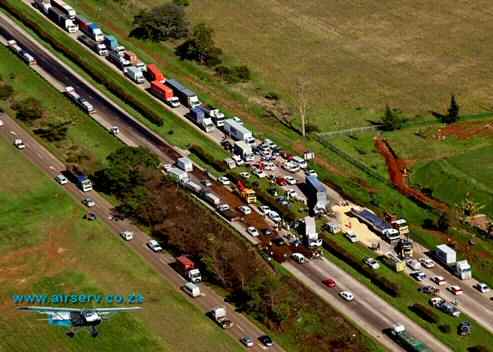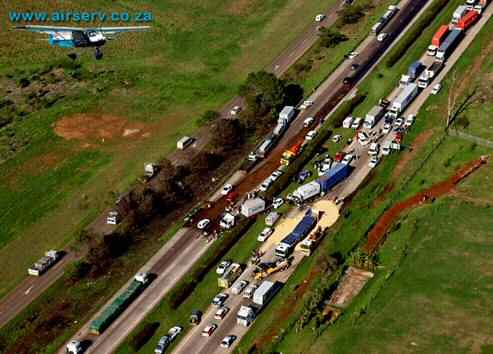 Nevertheless, I suddenly had a stationary car in front of me, but sideways and with it's nose in the centre hedge. I did a combination of disbelief, extra hard braking and looking for a gap to swerve left. I could not swerve due to a truck in the slow lane and I managed to stop before T boning the back of the BM'er protruding from the bush. Just then the thumping and scraping started – it was a new arrival, a 24 wheeler unable to stop and taking the gap between me and the other big truck in the slow lane. As he came through the gap, he was grinding up against the side of the truck in the slow lane. How I was not 'taken out' I do not know.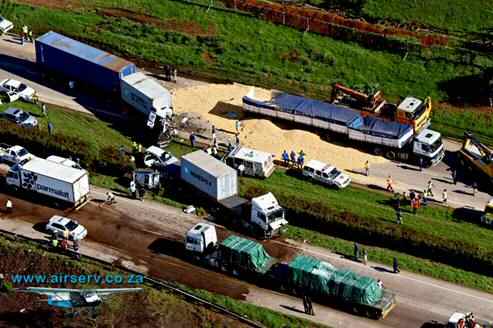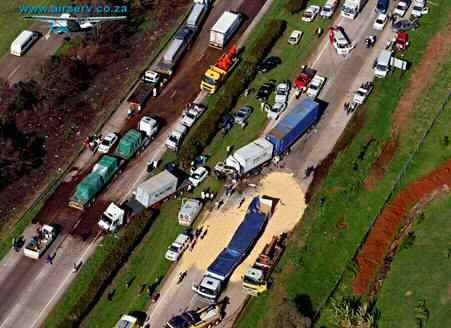 As a matter of pure self preservation, I floored it through the same gap and kept moving – in retrospect a very sensible thing to do. I dashed to my plane and by the time I was done with the 'pre-flight' this fog had burned off. I immediately flew back to the scene and I was blown away by what I saw – Mayhem!
Here's a crop from the picture above, depicting what is/was a car sandwiched between these monsters of the road, who kill you when they can't stop their rolling 40Tons. That's not meant to sound dramatic, its just the truth.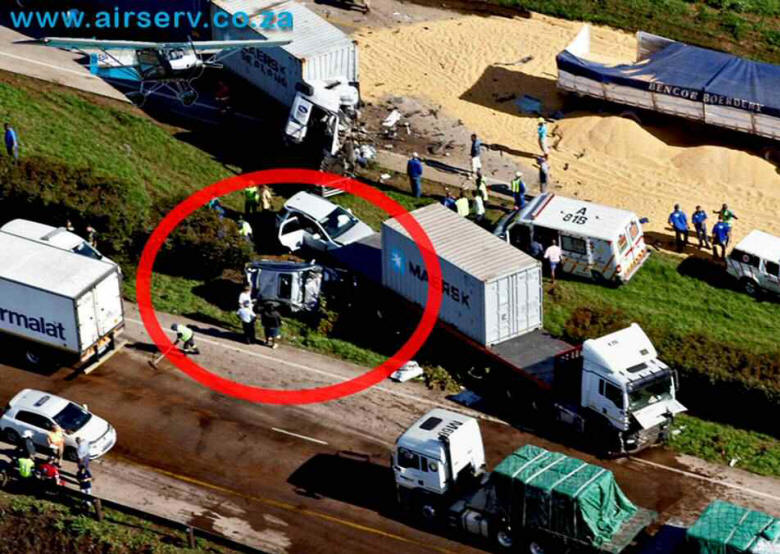 An onward flight towards Pietermaritzburg revealed where the "heavies" were lined up on the now closed N3 and one look at the volume is enough to scare road users and road maintenance people. This flight also revealed that there were 4 clearly discernable accidents – whether coincidental or as 'follow on' accidents and they were all within a 1km stretch.

Spring is here Folks and with it comes the warmer, damper - mist making climate. So check out the pictures and let them tickle your own regard for self preservation. Open that following distance and if/when you get stopped on a motorway, be VERY conscious of what's coming from behind.
Steve - www.airserv.co.za